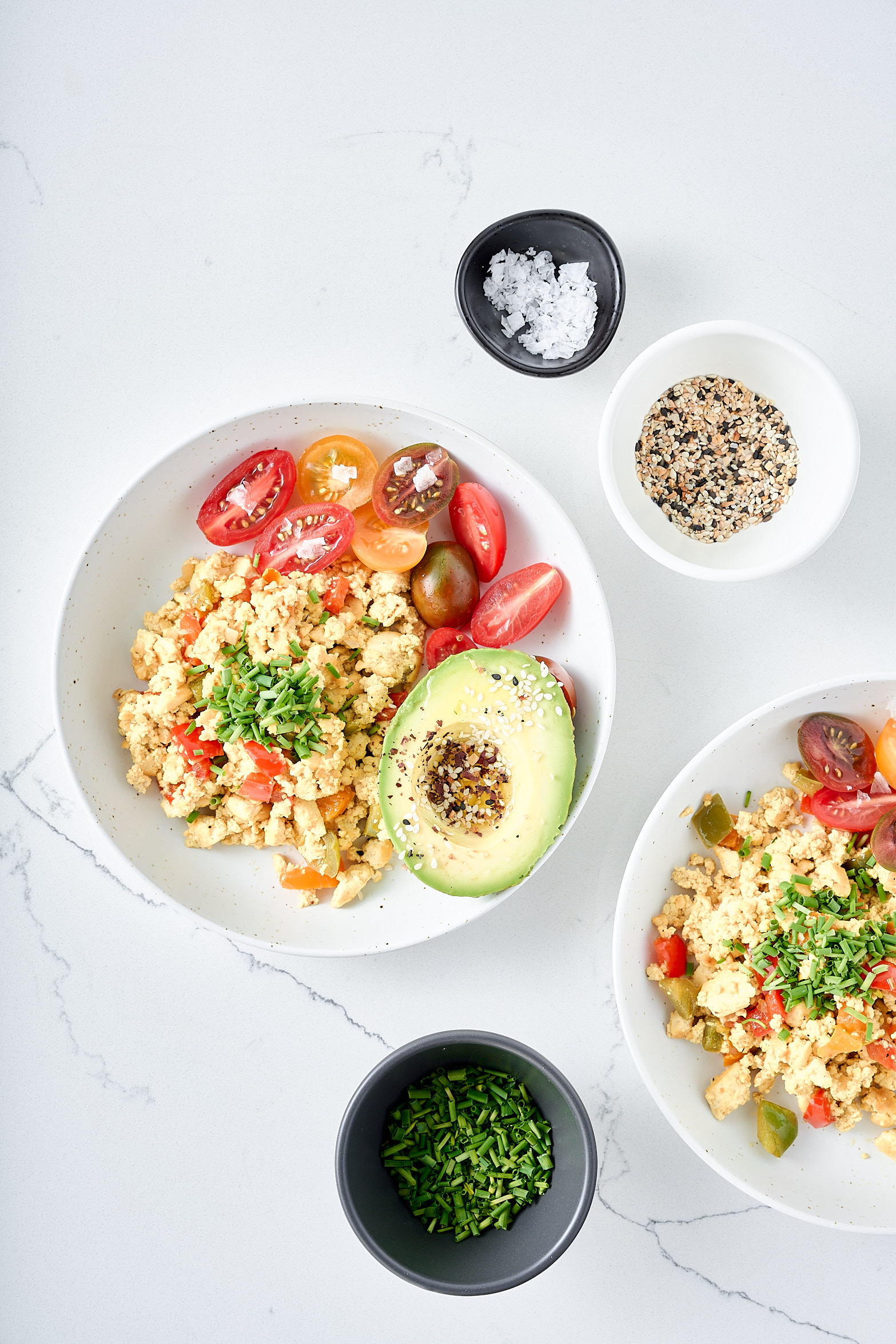 Vegan Tofu Scramble
There is always that one recipe you'd like to try because it sounds both exciting and offers a workable solution around eating eggs. If you're vegan or prefer not to eat eggs, you can cook a delicious plant-based breakfast that is in season and healthful with a little bit of patience. Hello vegan tofu scramble!

This tofu scramble recipe is made using both firm and silken tofu. It takes a little bit of getting used to cooking with two different types of tofu and achieving the kind of consistency scrambled eggs would deliver; however, it's worth the effort. We encourage you to try out this recipe with your favorite veggies. Here we added peppers (capsicum), but you could also add mushrooms or spinach.
Tofu is a source of protein and works in many sweet and sour dishes. The fantastic thing about tofu is that it can absorb any flavour, and this recipe is packed with flavour – shallots, garlic, smoked paprika, nutritional yeast and kala namak.
Kala namak is also referred to as Indian black salt or Himalayan black salt. It has a distinctive sulphurous odour and egg-like flavour. Don't be turned off by the smell, though. With cooking, the scent dissipates, and you'll be left with a delicious tofu scramble.
FIY: it's recommended to buy organic tofu made with a coagulant nigiri.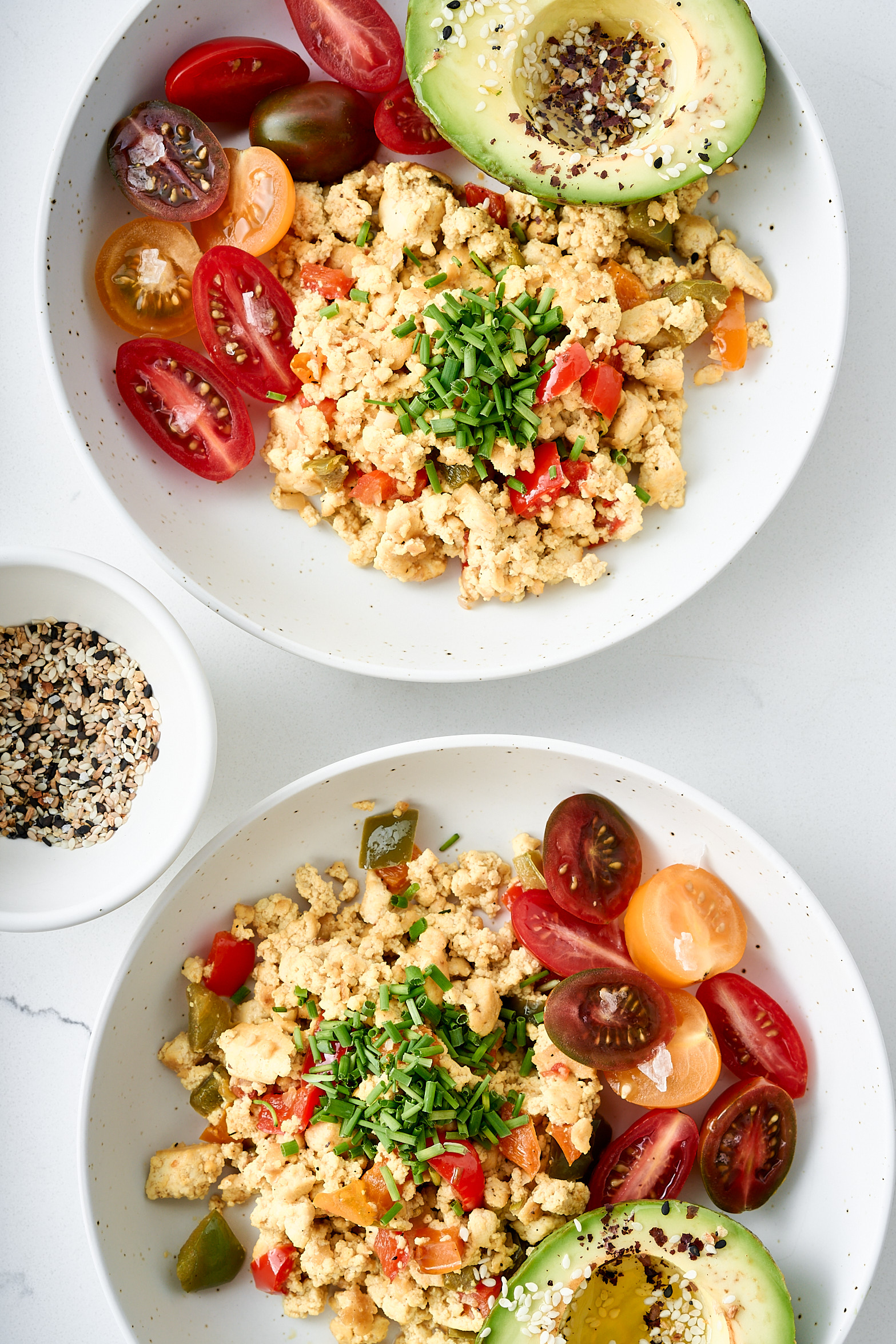 This vegan tofu scramble works great with cherry tomatoes and avocados. We intentionally added sesame seeds and wakame flakes because flavours work beautifully together. Chives are also an excellent addition if you happen to have them on hand.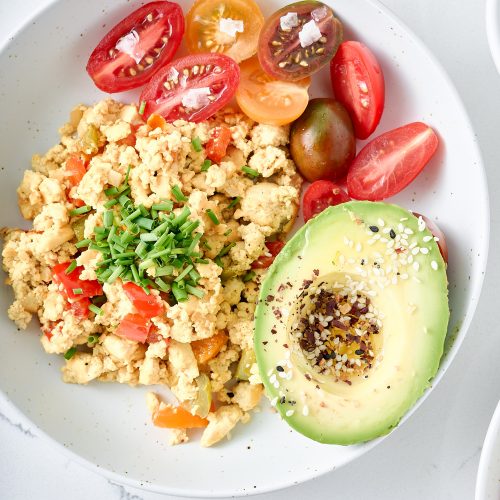 Vegan Tofu Scramble
If you're vegan or prefer not to eat eggs, you can cook this delicious and flavour packed vegan tofu scramble made with kala namak.
Ingredients
1

455g(160oz)

block plain, firm tofu

1

455g(160oz)

block plain, silken tofu

2

tablespoons

olive oil

1

shallot

thinly sliced

3

cloves

garlic

diced

1

cup

tri-color peppers (capsicums)

deesseded and chopped in 3.5cm pieces

1

teaspoon

sea salt

1/2

teaspoon

pepper

1

teaspoon

smoked paprika

1

cup

plant-based milk

1/4

cup

nutritional yeast

1

teaspoon

kala namak

1/2

teaspoon

turmeric

1/2

teaspoon

onion powder

1/4

teaspoon

granulated garlic

1

handful

chives
Instructions
Drain, rinse and press both firm and silken tofu making sure to remove excess water. For firm tofu only, crumble the pressed tofu into a medium bowl. Set aside.

Warm one tablespoon of olive oil in a large frying pan over medium heat; add shallots. Sauté shallots until beginning to brown. Add peppers and continue to sauté for another seven minutes before adding garlic. Continue to sauté on lower heat while adding salt, pepper, and smoked paprika.

Remove sautéd vegetable mix from the pan and place them into a bowl. Set aside.

Add remaining olive oil and firm tofu crumble to the pan and cook for eight minutes, mixing often and adding extra olive oil if needed.

Meanwhile, in a blender, combine silken tofu with milk, nutritional yeast, kala namak, turmeric, onion powder, and granulated garlic. Blend till smooth.

Pour silken tofu mix over the firm tofu crumble in the pan and cook on medium heat for 20 minutes or until you reach your desired texture and consistency, stirring occasionally. Once ready, fold in sautéed capsicum and serve warm with cherry tomatoes and avocado.
Notes
We suggest using a tofu press to remove excess moisture.