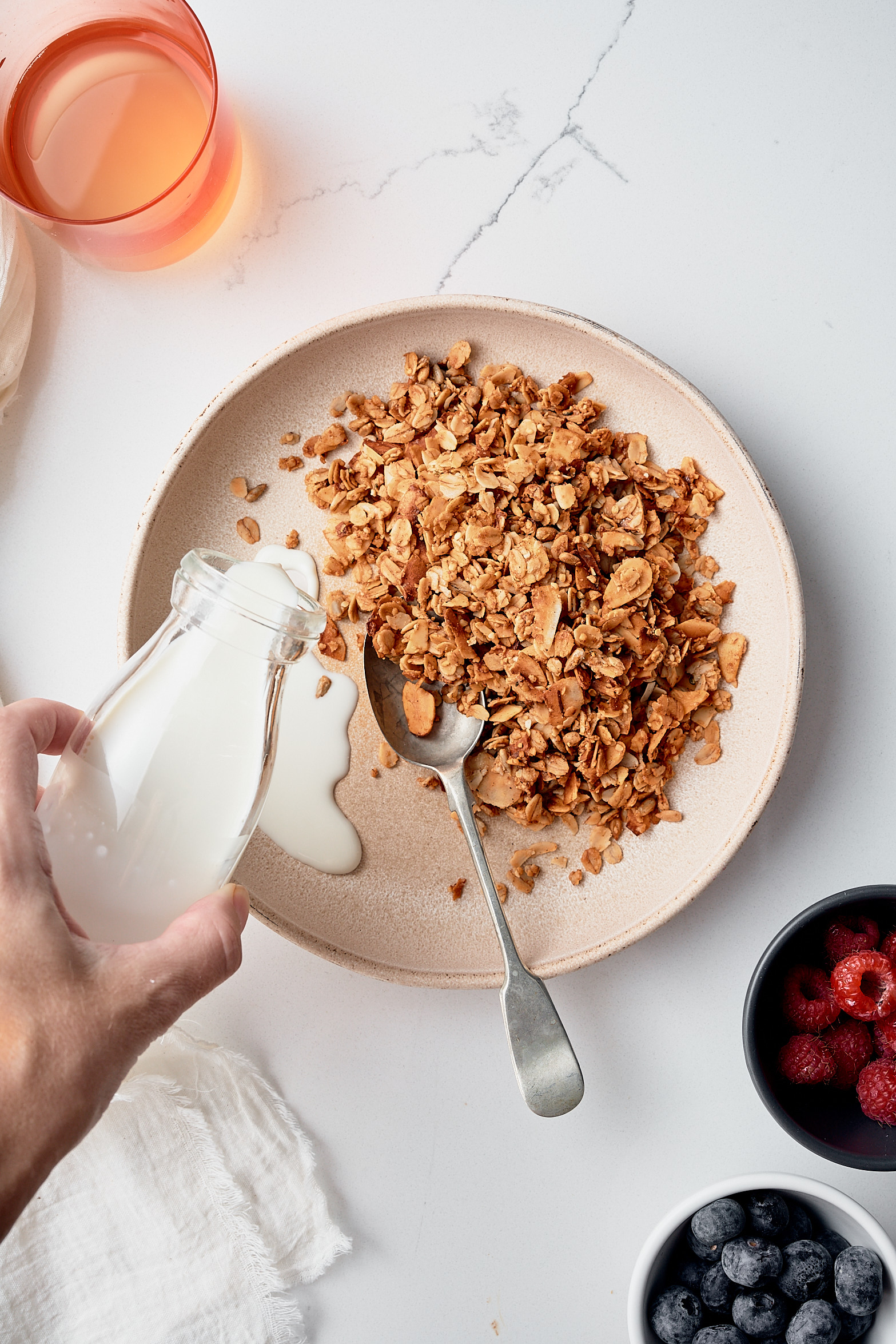 Hearty Vegan Golden Granola
Getting into the habit of making your granola is one of the easiest ways to add an excellent hearty breakfast dish to your regular breakfast rotation. It can be made ahead of time and stored for a few weeks. At first, it feels like a massive commitment to sourcing and measuring out all the ingredients, but by the third time, you'll experience a granola flow. This vegan golden granola recipe is a mix of oats and just a few of our favorite nuts and seeds.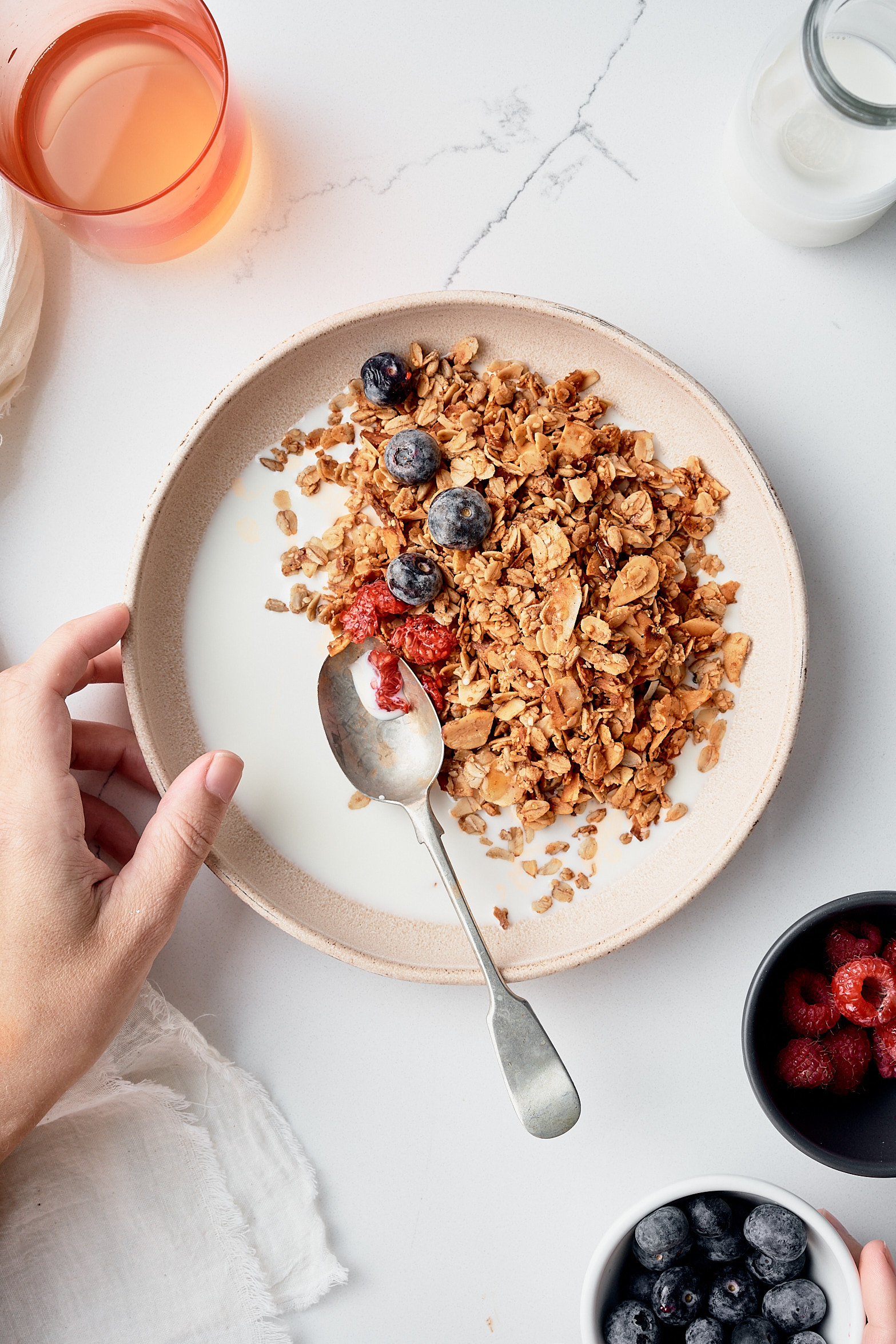 This hearty golden granola was made using coconut oil. However, you may choose to use olive oil in place of coconut oil, which will result in equally delicious granola. There will be a minor difference and lack of deep coconut flavour that comes with using coconut oil. This is a personal preference, and either way, this granola will turn out simply delicious.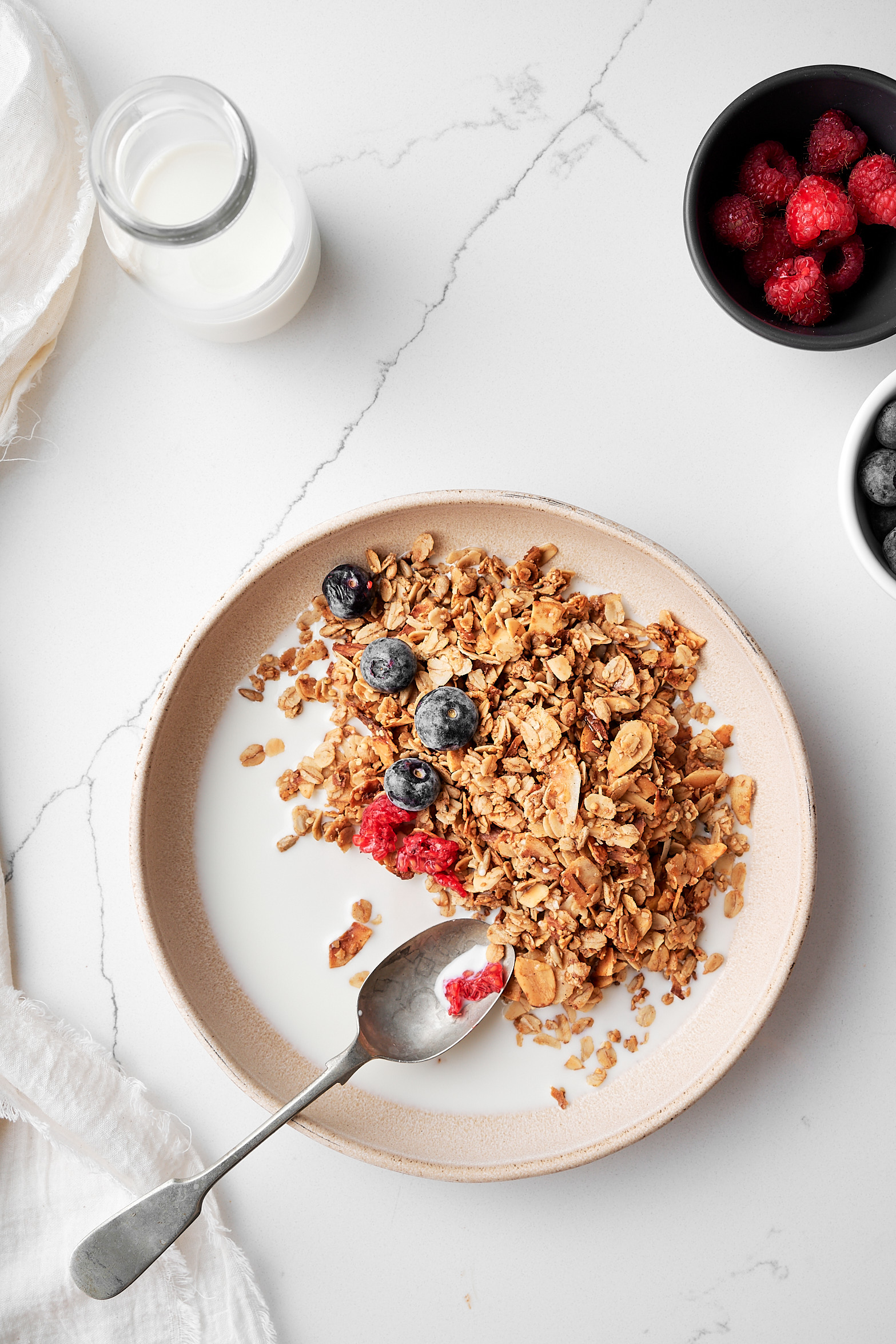 Ingredients for granola
– oats
– coconut flakes
– raw almonds
– pumpkin seeds
– sunflower seeds
– sesame seeds
– ground cinnamon
– rice malt syrup
– coconut oil
– vanilla extract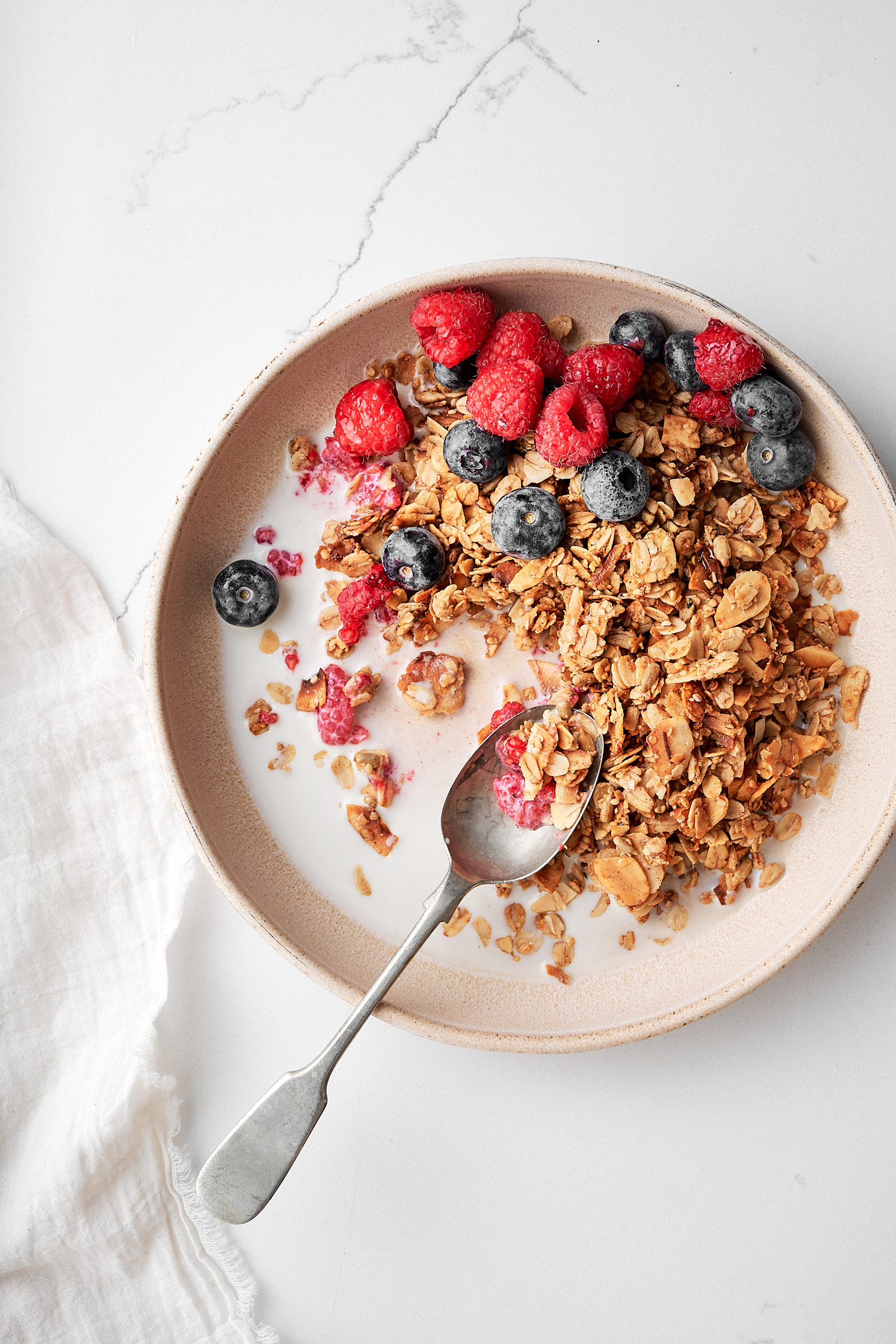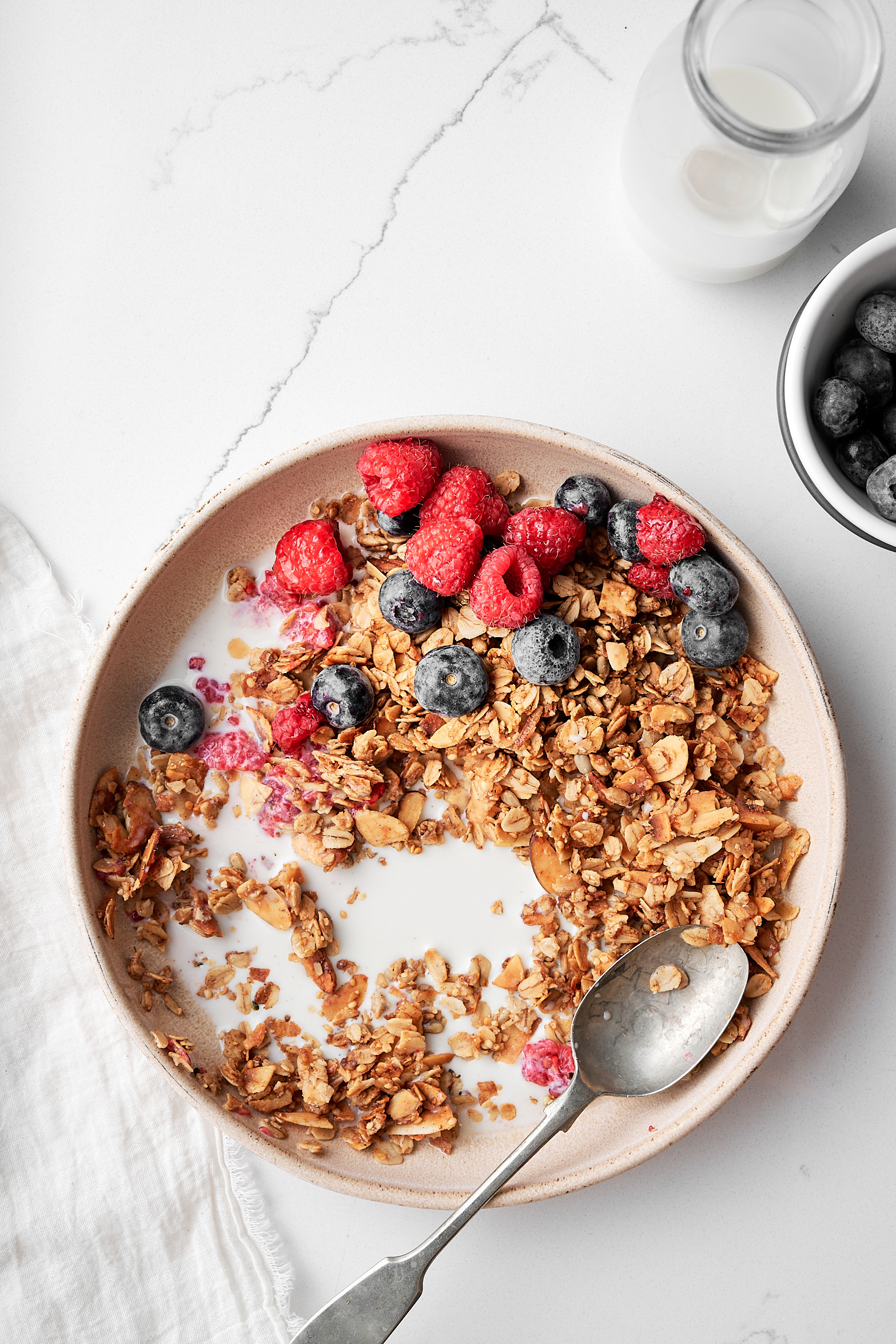 You might have large chunks of granola stuck together. However, some people enjoy reaching into the jar and simply eating them as snacks.
Serve it with milk or yoghurt and some seasonal fresh fruit. Bon Appétit!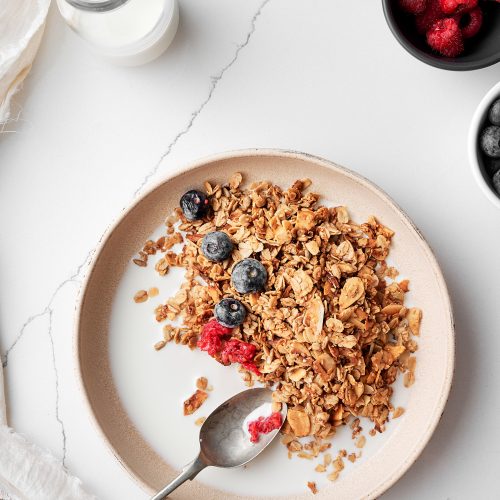 Vegan Golden Granola with Rice Malt Syrup and Coconut Oil
Hearty vegan golden granola made with rice malt syrup and coconut oil best served with your favorite plant-based milk.
Ingredients
2 1/2

cups (225g)

rolled oats

1 1/2

cups

dried coconut flakes

1/2

cup

raw almonds

roughly chopped

1/4

cup

sunflower seeds

rinsed

1/4

cup

pumpkin seeds

rinsed

1/4

cup

sesame seeds

rinsed

1

tsp

ground cinnamon

1

pinch

sea salt

1/4

cup

rice malt syrup

aka brown rice syrup

1/3

cup

coconut oil

1

tsp

vanilla extract
Instructions
Preheat the oven to 150°C/300°F.

Place sunflower, pumpkin and sesame seeds in a small bowl and fill it with water. Swish the seeds around, then pour them into a sieve. Rinse under running water and set aside to drain.

Place oats, almonds, coconut flakes and cinnamon in a large bowl, toss to combine and set aside. 

Next, warm rice malt syrup and coconut oil in a small bowl over medium heat. Stir until the mixture combines, then remove from heat and add vanilla. 

Stir the drained seeds into the oat mixture and pour in the coconut oil mixture. Stir until well combined. 

Spread the mix in an even layer on a large baking sheet lined with parchment paper.

Bake for about 30 minutes, until very lightly, browned, stirring halfway through.
Notes
Keep stored in an airtight container.