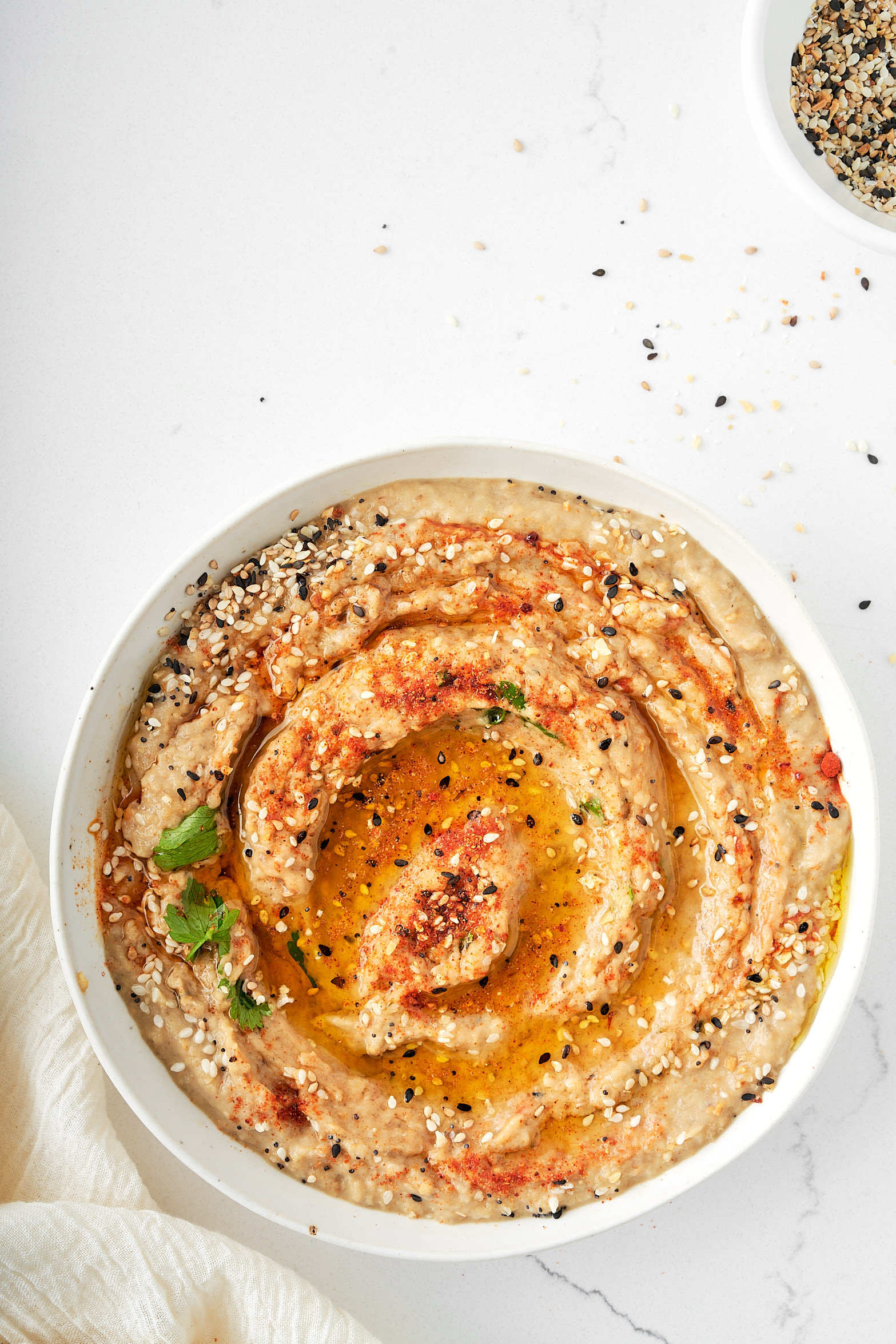 Easy Baba Ganoush
Baba ganoush is such a tasty dish. The first time we tried this recipe, we knew it was something we needed to share. The simplicity with which this recipe is made left us feeling surprised, and it has become a staple ever since.
Baba ganoush is a versatile dish and comes in many forms. It can be served pita bread, baked chips, or chopped raw vegetables. And if you are looking for a super simple staple recipe, this is a good place to start. For example, many recipes call for paprika and coriander. Both were included in this recipe. You can't go wrong!
For those looking to cook and eat more plant-based, this is an entry step into roasting eggplants. Maybe you are a bit hesitant about roasting the eggplant and having it turn out OK! Or perhaps the thought of having to scoop out the flesh makes you slightly queasy. Visually, roasted eggplants aren't as appealing as, let's say, roasted potatoes, but they are just as delicious.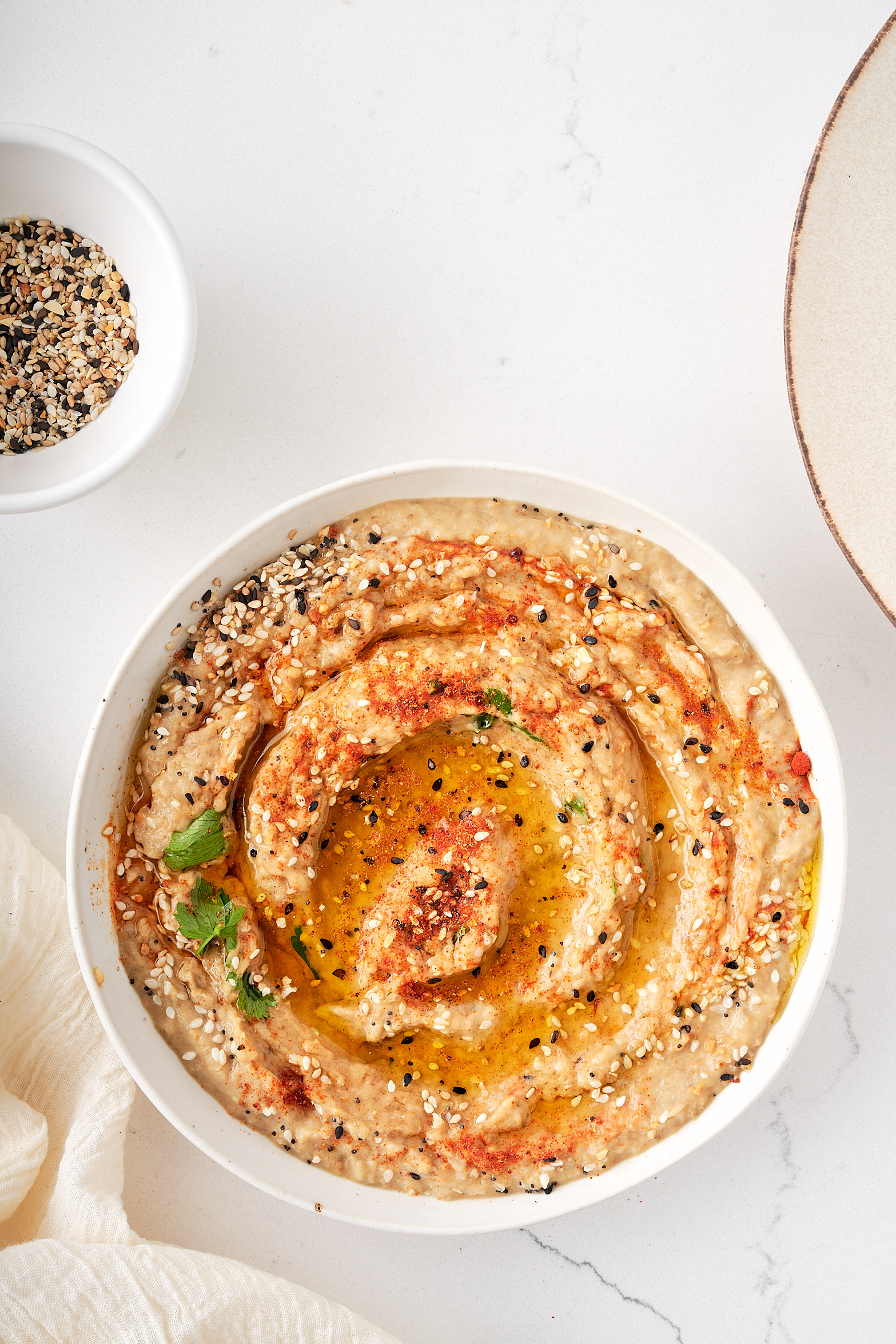 Ingredients
– eggplant (aubergine)
– garlic, roasted
– olive oil
– tahini
– lemon juice
– salt and pepper
Don't be intimated by having to roast garlic. The process involves carefully trimming the top of the head of garlic to expose the cloves and drizzling olive oil over the exposed garlic. Then, wrap it in a bit of aluminium foil and roast in the oven with the eggplant. Roasted garlic cloves make for an excellent appetizer on their own, and when paired with an eggplant, it's a match made in heaven!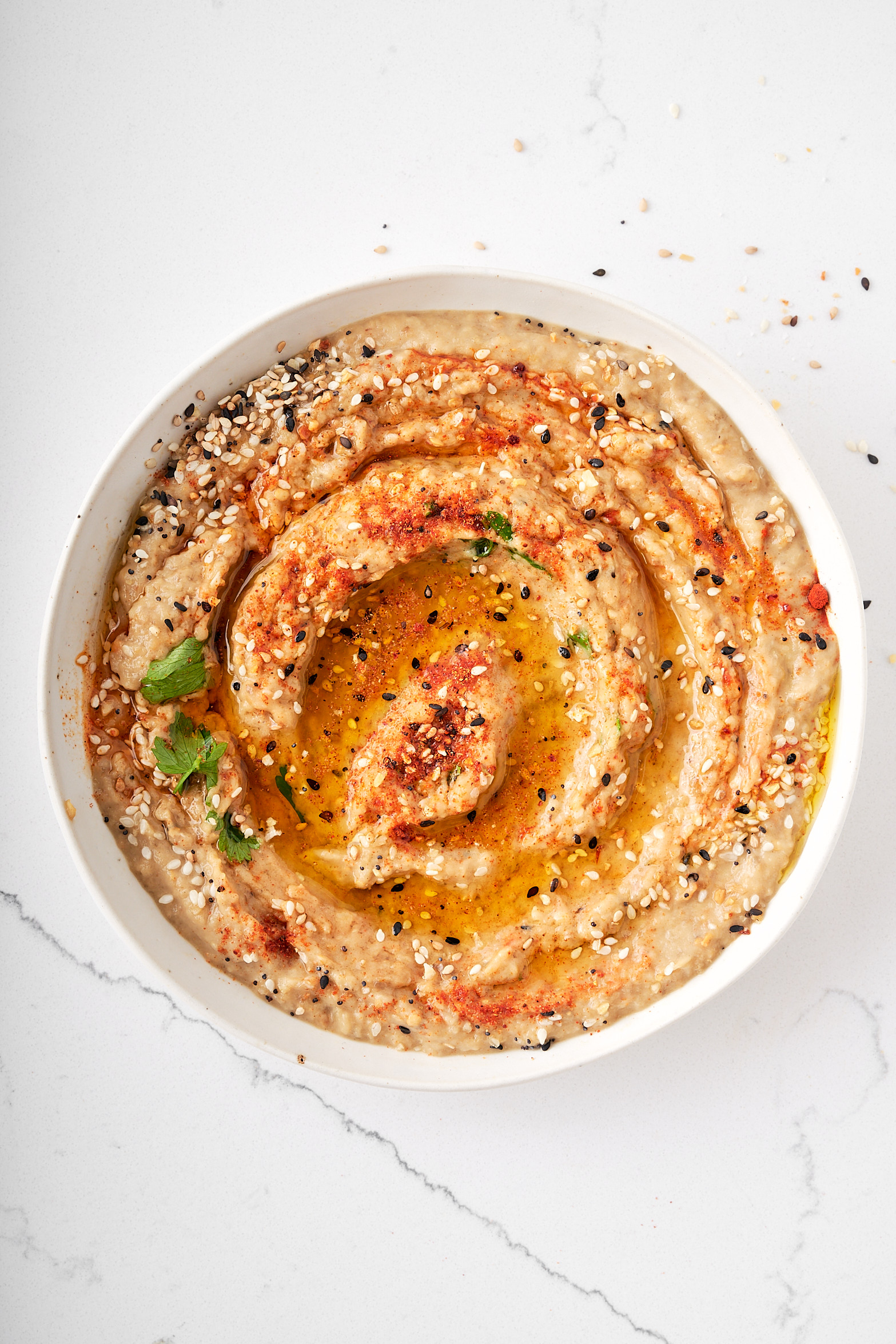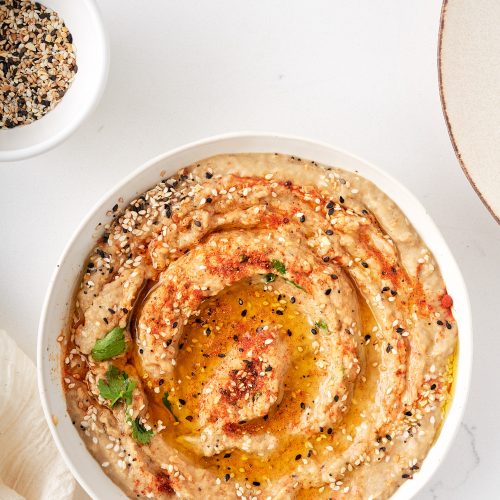 Easy Baba Ganoush
Baba ganoush is a simple dish packed with flavour and texture. It can be your next favourite dip or served with the main meal.
Ingredients
2

eggplants (aubergines)

1

head

garlic

120ml

extra-virgin olive oil + extra for serving

120g

tahini

50ml

lemon juice

~ juice of one lemon

salt and pepper

to taste

ground paprika and sesame seeds

to garnish
Instructions
Preheat oven to 180C/350F.

Cut the eggplants in half and score the cut surface of each half from edge to edge in a crosshatch pattern.

Brush the cut surfaces with the oil (two to three tablespoons), season with salt and paper and place cut side down on a sheet pan. Cut the top from the head of garlic and discard. Drizzle a little bit of olive oil over the exposed surface of the garlic. Wrap the garlic in aluminium foil and roast together with the eggplant for approximately 45 minutes.

Let eggplants cool, then scoop out the flesh. Remove garlic cloves from the aluminium foil and press on the bottom of each clove to push it out of its paper. Puree the flesh in a food processor with garlic, lemon juice, tahini, salt and pepper and the remaining oil. Blend the ingredients to the desired consistency.

Serve in a bowl with additional olive oil, paprika and sesame seeds, if desired.
Notes
Before serving baba ganoush, dust lightly with ground sumac, paprika or some small seeds; additionally, chopped fresh parsley or coriander leaves make for an excellent topping.