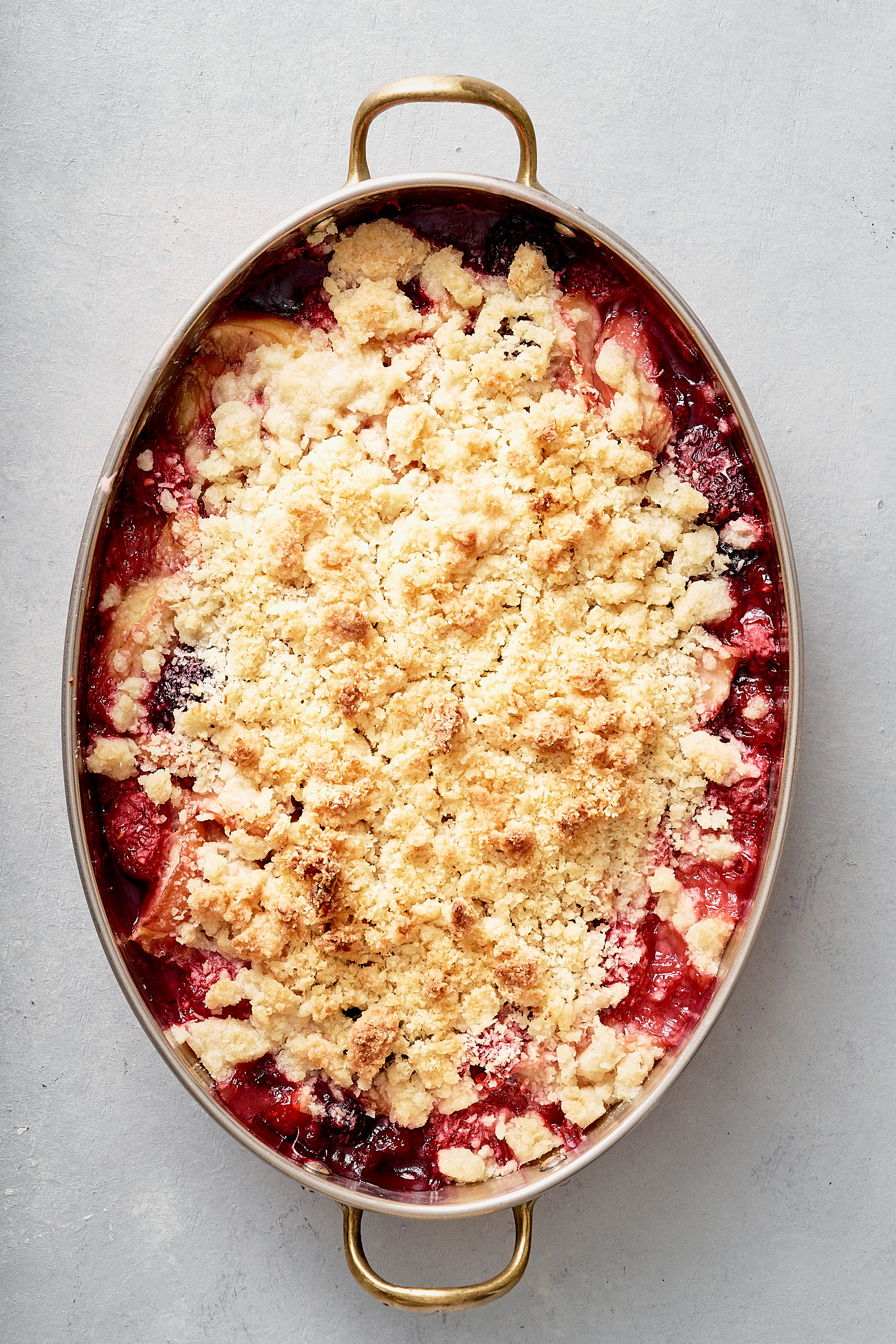 Vegan Berry and Peach Crumble
For this vegan berry and peach crumble, we used a mix of summer berries and homegrown peaches. When we use seasonal produce, the fruit is ripe, and you can smell how sweet it is. Here At Home Plant-Based, we love using seasonal fruit to highlight and show ways to enjoy fruit in our desserts.
Peach is such a wonderful and versatile stone fruit that it's hard to believe anyone would dislike eating a peach. There is, however, a substantial difference in taste between homegrown and a store-bought peach. With homegrown food, one has the flexibility to pick and eat fruit once it's ready and not a minute sooner. Store-bought food is picked and shipped sooner due to its short shelf life.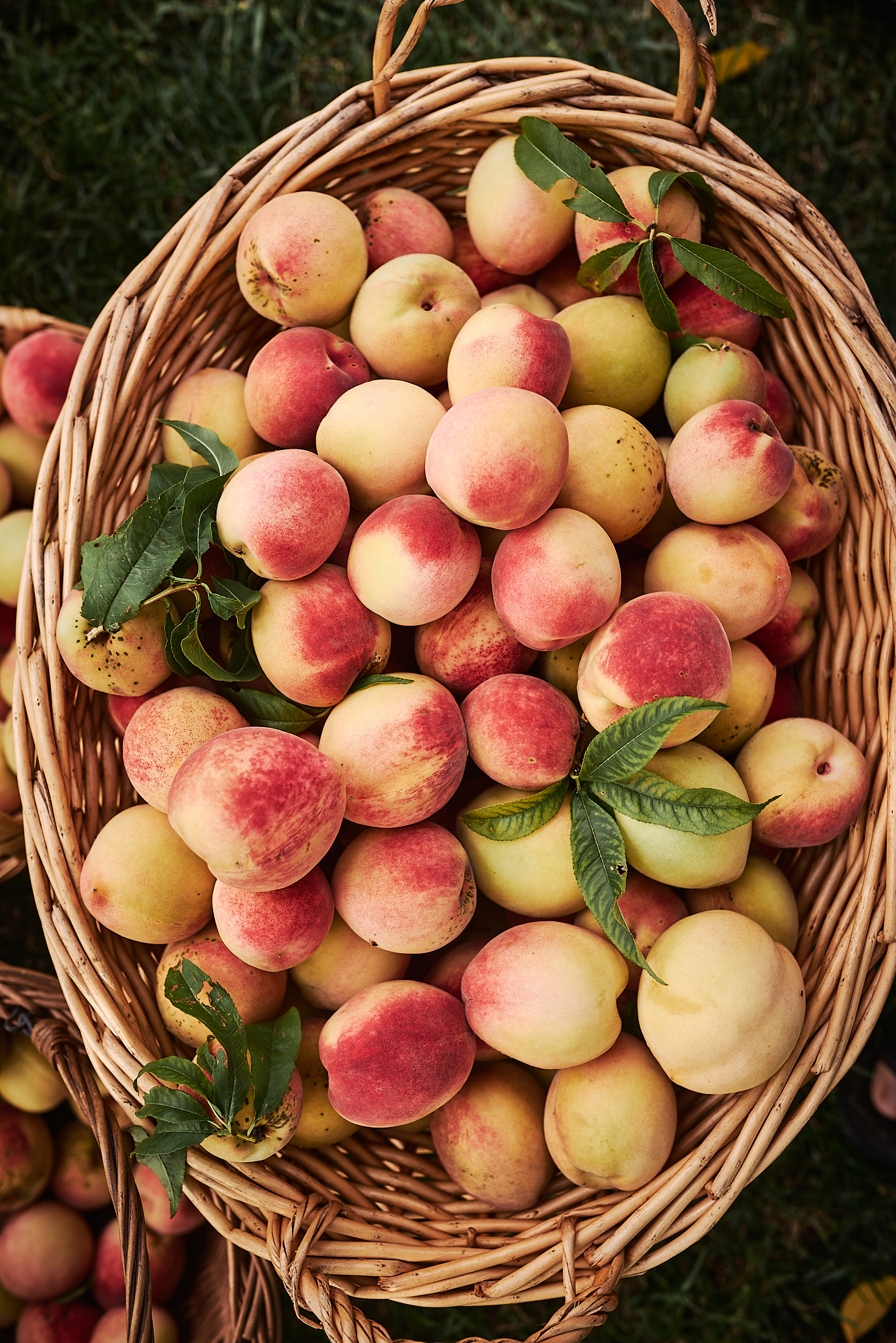 This year peaches were sweet and full of flavor. Very juicy!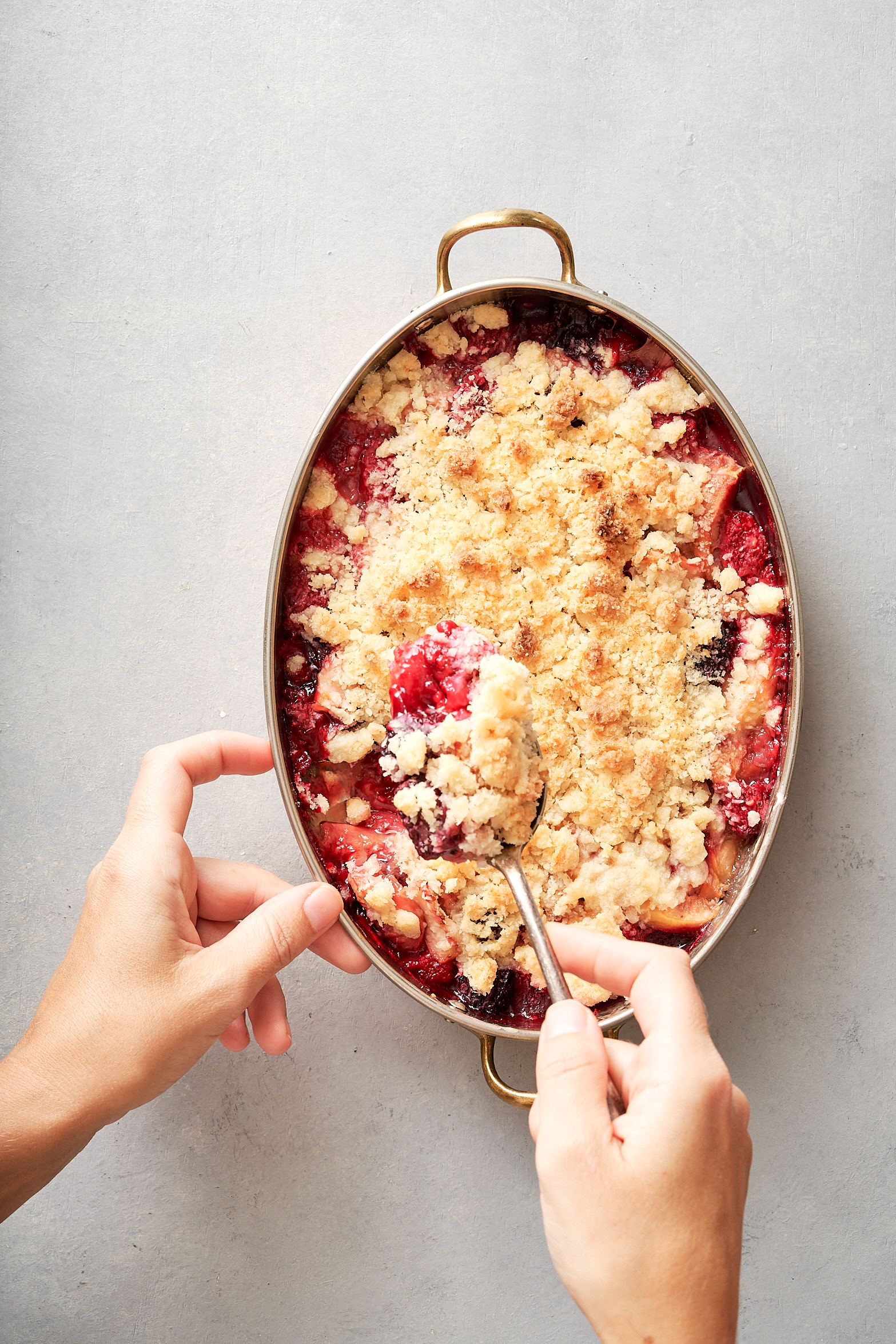 Ingredients for crumble
– peaches
– blackberries and raspberries
– sugar
– lemon
– tapioca starch
– all purpose white flour
– coconut flakes
– plant-based butter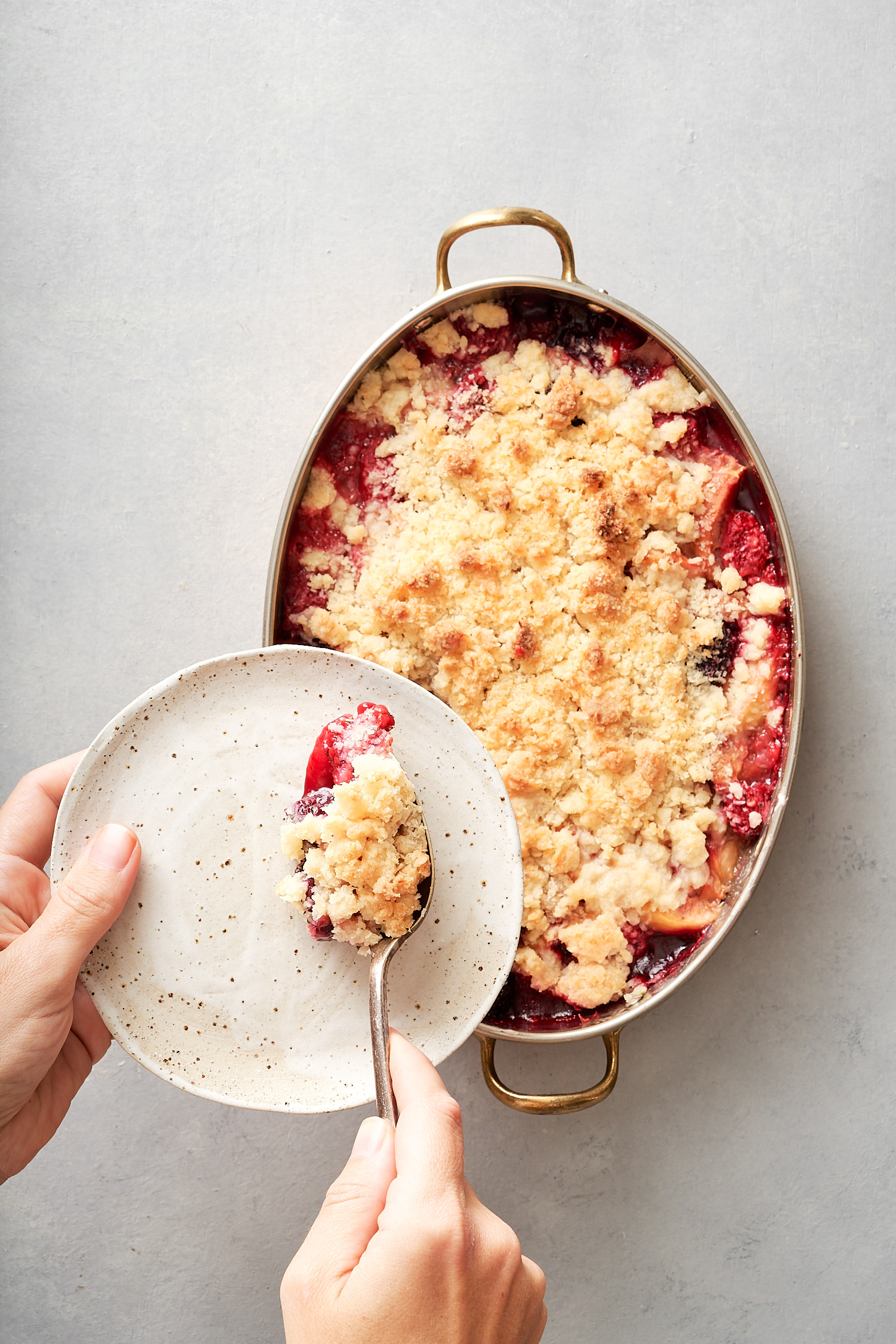 How to make the perfect vegan crumble
Crumble is super easy to make. Unfortunately, achieving the crumble texture we all love and know with anything other than cow milk-based butter can be difficult. It may take some experimenting to find the right fit. This recipe uses plant-based butter because it resembles butter the most. However, as we get comfortable mixing different types of flour, we can then use coconut oil—more on this in the recipe notes section.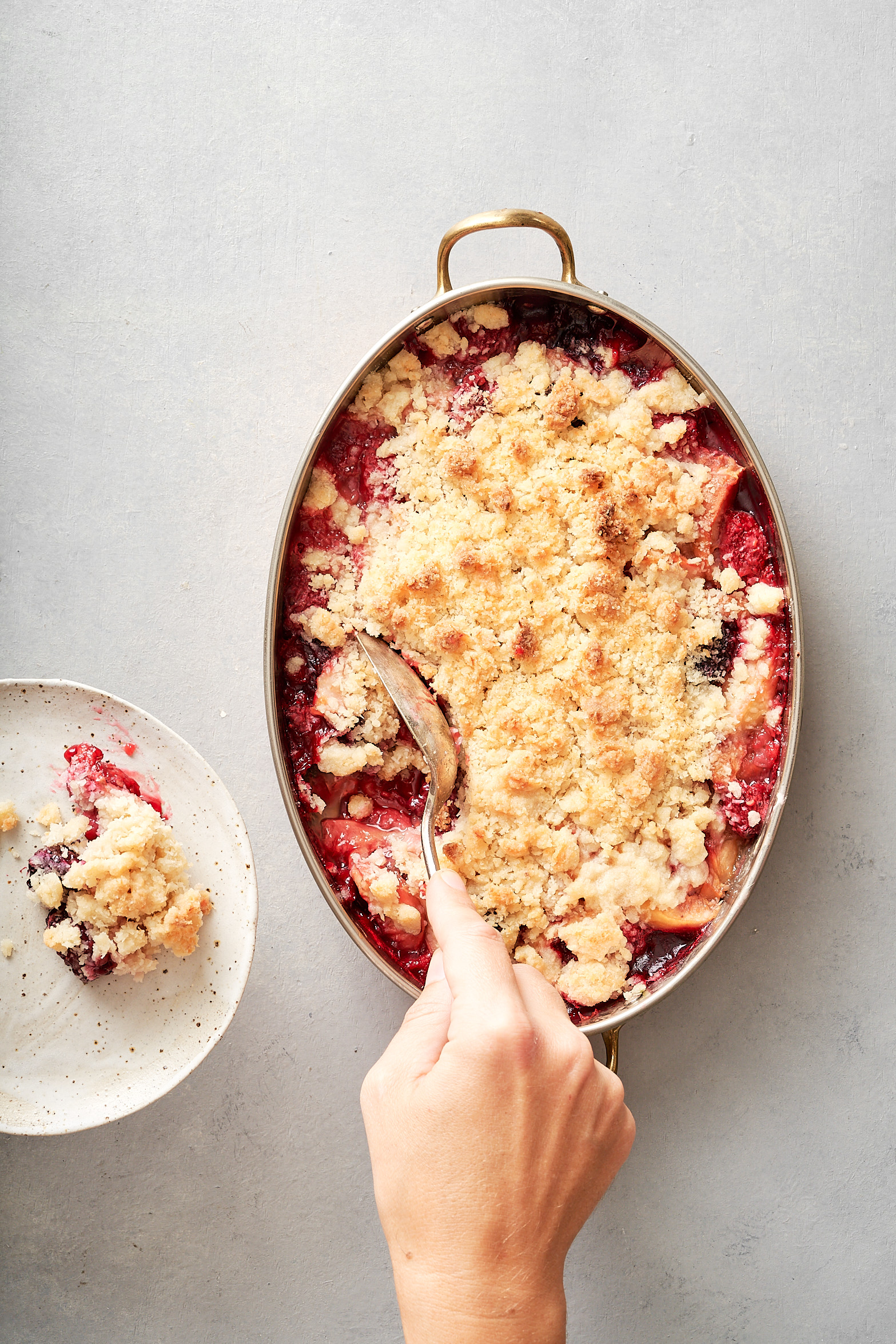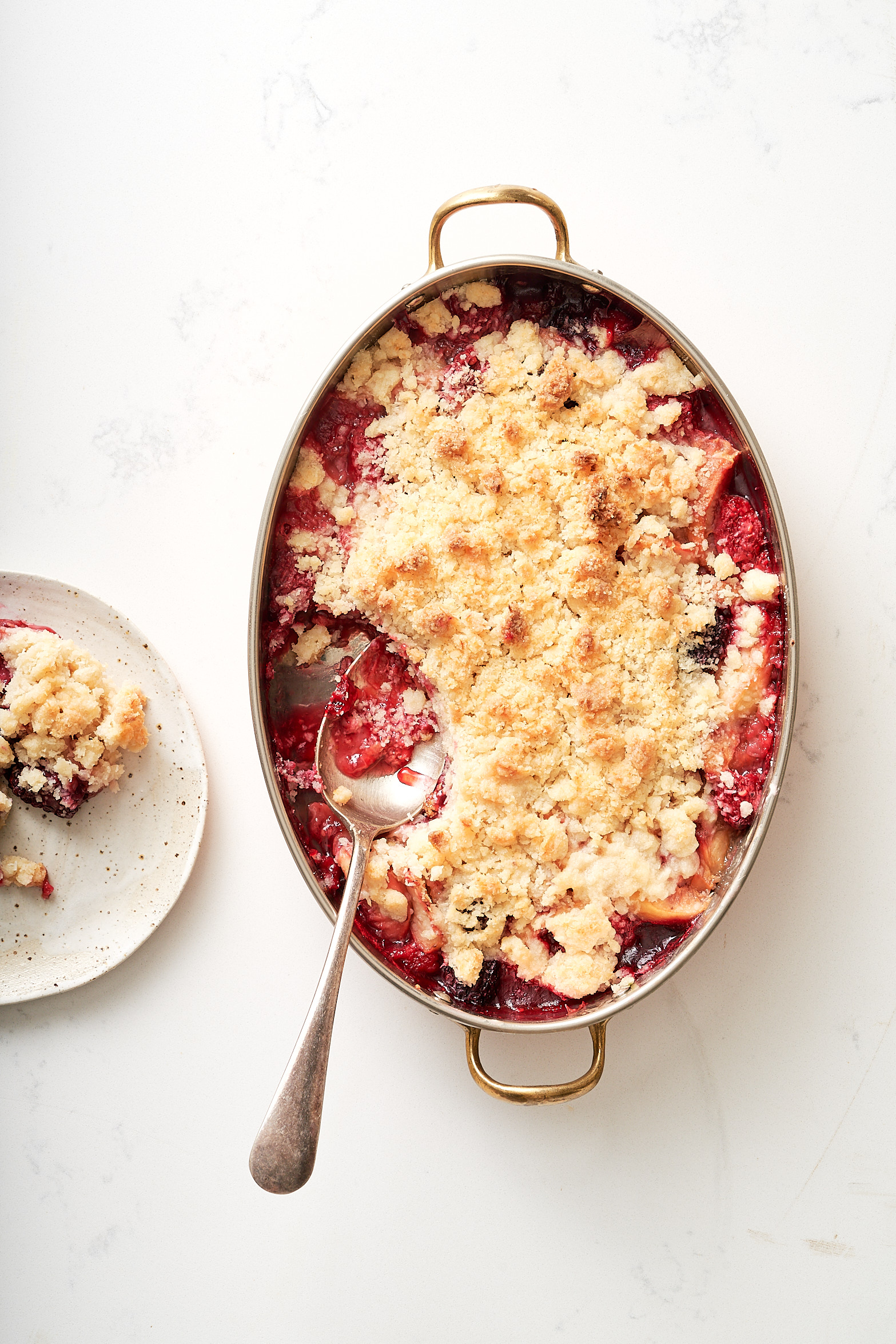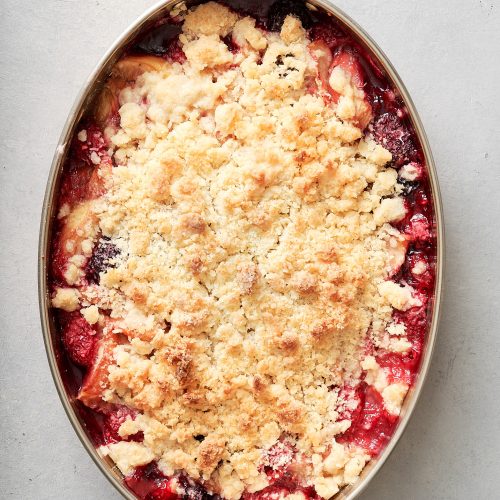 Vegan Berry and Peach Crumble
This vegan berry and peach crumble will be your go-to summer dessert recipe. Here we use peaches, blackberries and raspberries as they happen to be in abundance. It's super simple and easy to make.
Ingredients
500g

fresh peaches

sliced

2 x

170g

blackberries

rinsed

2 x

170g

raspberries

rinsed

1/3

cup (175g)

white granulated sugar + 1 tbsp

1

tablespoon

lemon juice

1

tablespoon

lemon zest

2

tablespoons

tapioca starch

1

cup (150g)

all purpose flour

1

cup (93g)

coconut flakes

8

tablespoons

plant-based butter

cold
Instructions
Preheat oven to 190C/375F.

Place the fruit, one tablespoon sugar, lemon juice and zest, and tapioca starch into a medium-sized bowl. Stir well and set aside. 

Add flour, coconut flakes, the remaining sugar, and cold butter to a food processor. Blend until the topping comes together.

Place the fruit in an oven-safe baking dish and scatter the topping over the top. Place in the fridge for a few minutes to firm up. 

Bake the crumble for about 40 to 45 minutes or until the topping is golden and the filling is bubbling.

Serve warm as is or with ice cream.
Notes
When making this vegan crumble for the first time, ease into the recipe using plant-based butter. After, you might choose to experiment with chilled coconut oil. If using chilled coconut oil, keep the topping in the fridge after pulsing in the food processor. Once ready to place the topping over the fruit, remove it from the refrigerator. Coconut behaves differently than butter, and it takes a little bit of extra care. The result, though, is just as delicious. Also, this recipe will work with tapioca or cornstarch.