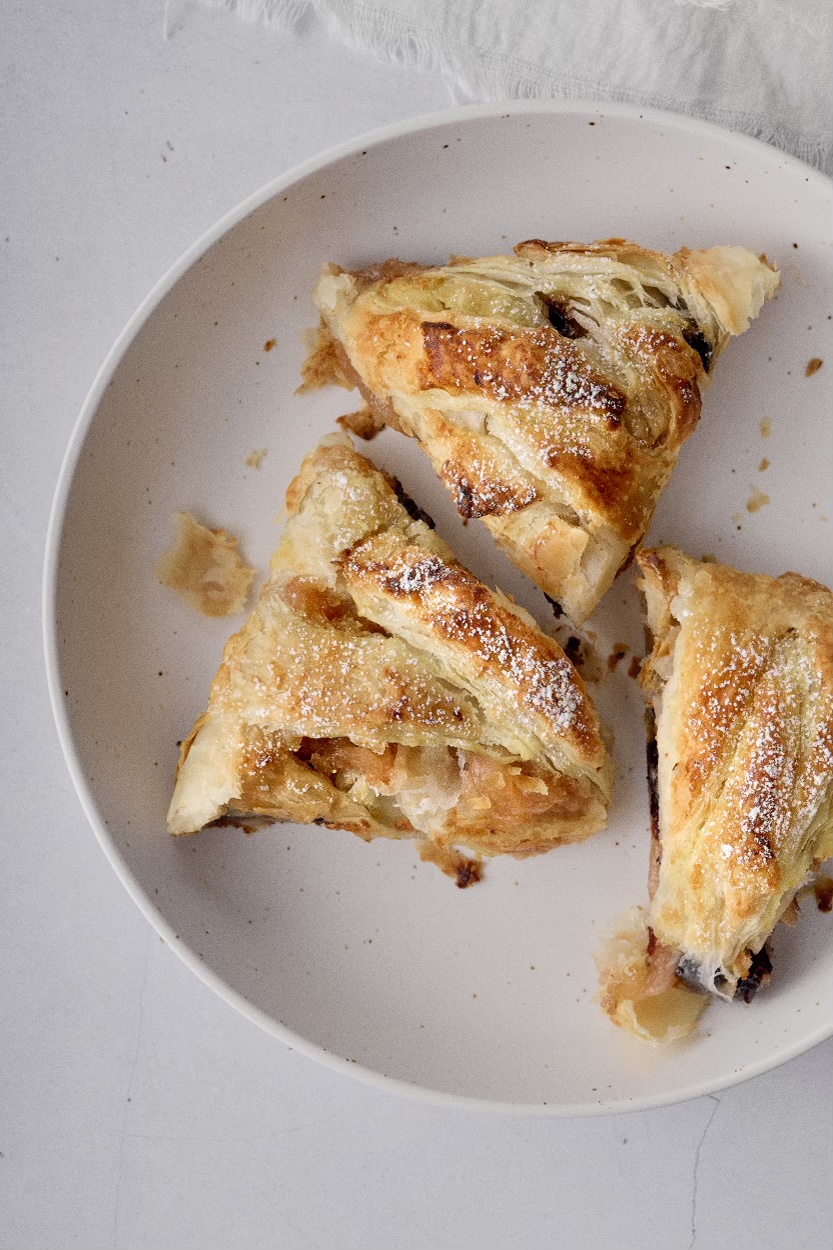 Puff Pastry Apple Strudel
This puff pastry apple strudel is made using store-bought puff pastry. Would we suggest making traditional pastry dough? Absolutely! At times though, we need to ease into a recipe so that we may feel confident in our ability to master steps over time. So perhaps the first few times you will use store-bought puff pastry, then slowly attempt a homemade version.
The underlining thought that the recipe will be more than we are willing to commit to in terms of time and effort keeps us from trying. With this recipe, try to split things into three equal parts: use a store-bought puff pastry, prep the filling, and then all that is left is learning how to braid the pastry. Easy!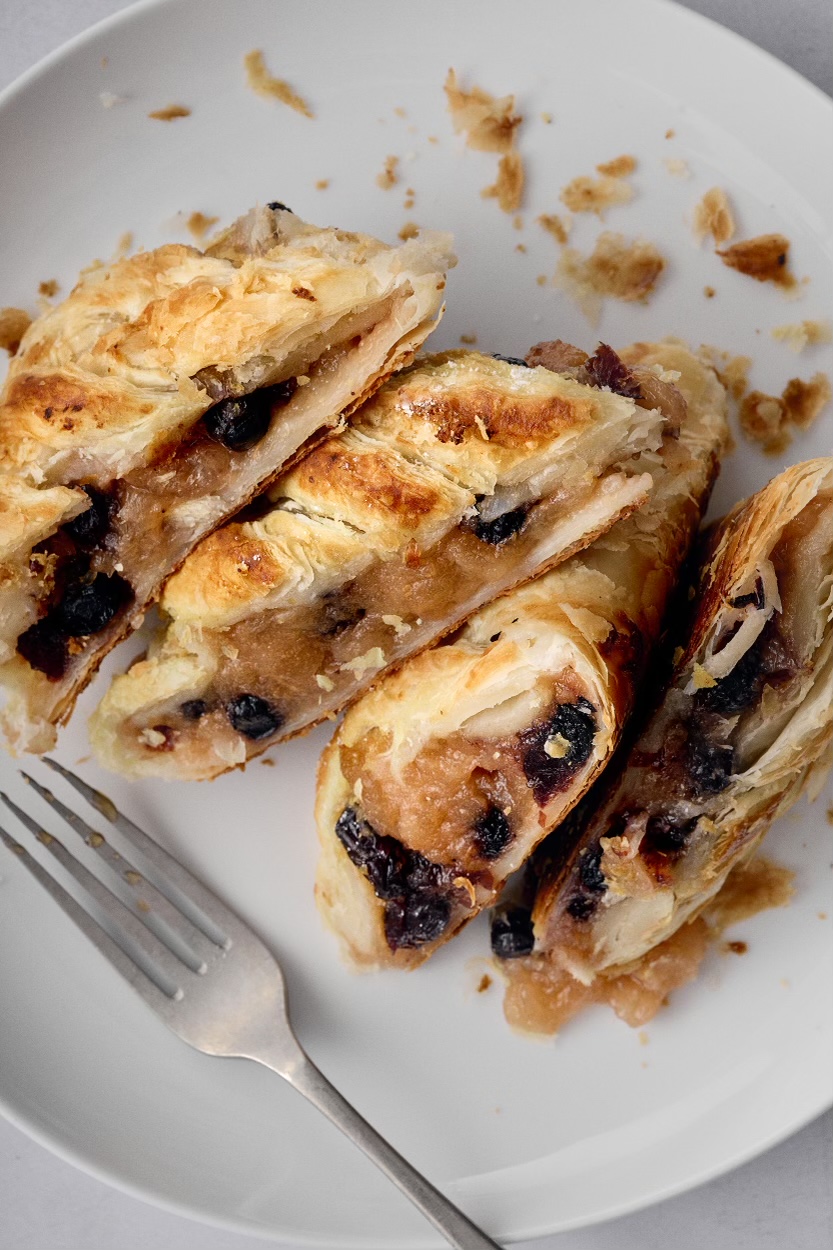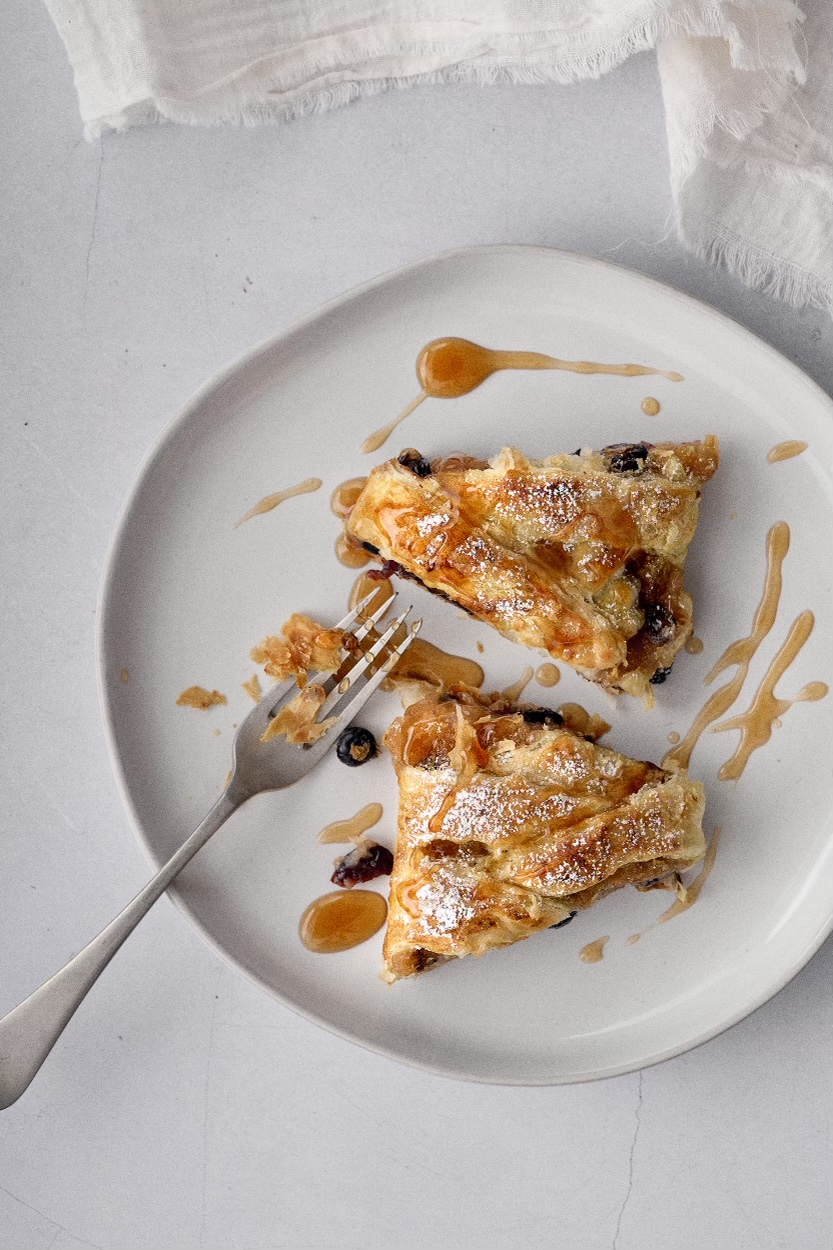 Ingredients and Substitutes
Fruit filling – this is an apple strudel. However, you could use other types of fruit depending on what is in season. You could also experiment with the fruit filling texture while adding dry fruit (e.g., cranberries, blueberries, raisins). Here we use apples and sultanas because of their rich sweet taste.
Spices – you could use a mix of spices, for example, ground ginger and cinnamon.
Puff pastry – this recipe calls for a store-bought puff pastry, which can differ significantly between brands—commercially available puff pastry is pretty standard, though, and more than likely, you'll have a delicious flaky pastry to sink into.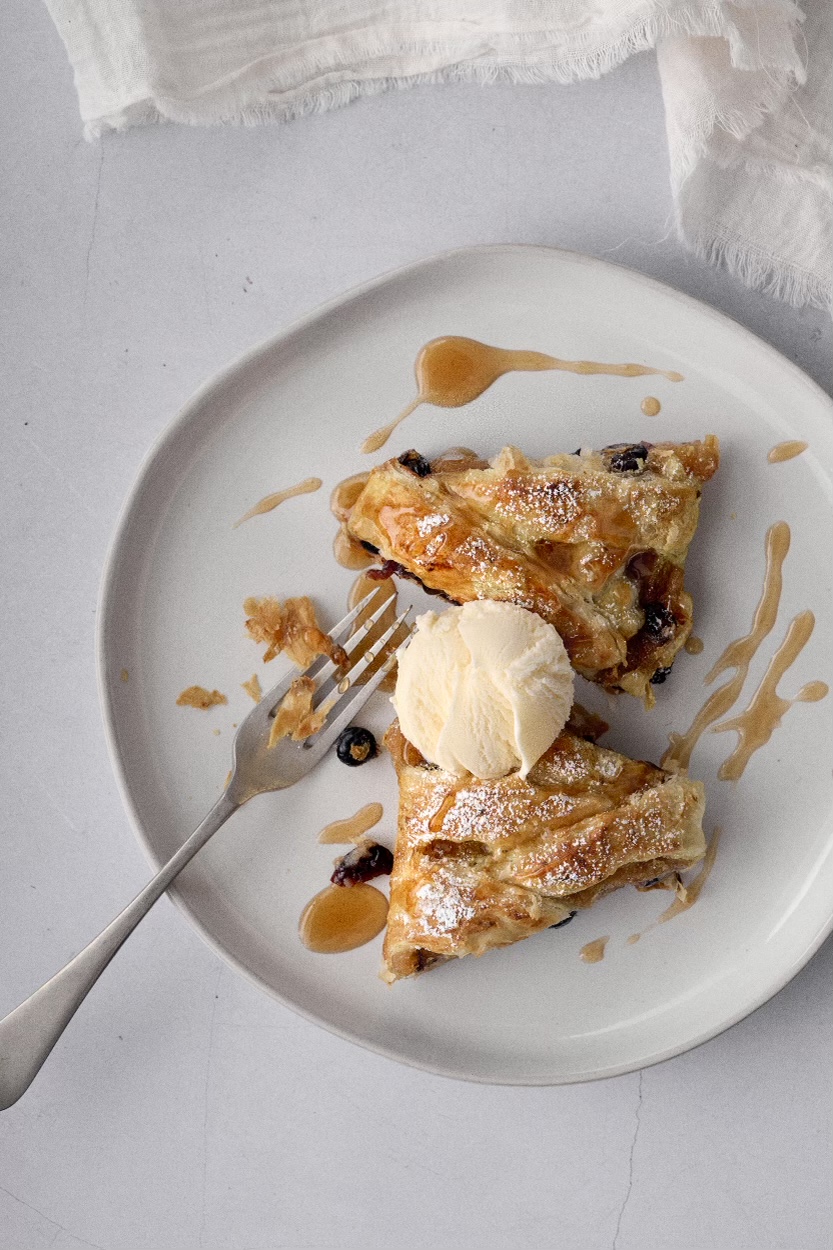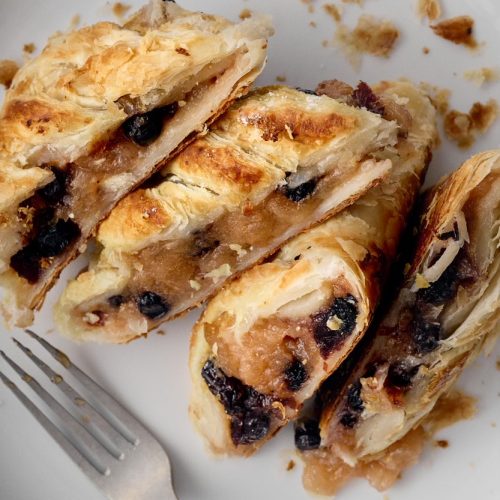 Puff Pastry Apple Strudel
This apple strudel is made using store-bought puff pastry – for those times you can't make pastry and would like to add a bit of delicious comfort to your weekday dinner.
Ingredients
Dough
2

sheets

puff pastry, thawed
Filling
4

(567g)

apples, peeled, and sliced into small cubes

1

cup (170g)

sultanas, packed

1/3

cup (71g)

sugar, packed

1

teaspoon

cinnamon

1

tablespoon

lemon juice

1

teaspoon

vanilla extract

1

teaspoon (7g)

cornstarch

Pinch of salt
Topping
1

tablespoon

plant-based milk, for brushing

light brown sugar or icing sugar, for sprinkling

optional
Instructions
Preheat the oven to 400°F/200°C.
To make the filling
Peel, core and cut the apples into small pieces of equal size. Place in a saucepan with sultanas, sugar, cinnamon, vanilla and lemon juice. Cook over medium heat for 10 minutes, stirring occasionally or until the apples are just tender. Remove from heat and place in a heatproof bowl; add cornstarch to the hot apple mixture, stirring as you do. Set aside to cool.
To assemble
Place the puff pastry sheet onto a lightly floured piece of parchment paper and use a lightly floured rolling pin to roll it to a ~30cm x 35cm (12 x 14 inch) rectangle.

Mark the puff pastry into three equal parts lengthways. Cut the top corners off (triangle shape), then cut notches in the bottom. This allows you to fold over the pastry for a much more finished look. The center of the pastry will hold the filling, and the sides will be flipped over. Use a knife to cut slating strips approximately 1-inch in width down both sides of the pastry. Spoon half of the filling down the center, leaving space at the top and bottom ends.

Fold both ends at the top and bottom over the filling to prevent the filling oozing out when baking.

Braid the pastry by crossing the strips over the filling overlapping each other.

Trim any loose ends and transfer to a baking sheet. Repeat the process with the second sheet of puff pastry.
To finish and bake
Brush the strudel with plant-based milk and bake until golden brown, 25 to 30 minutes. Remove from the oven and cool before slicing and serving.